Quality and Value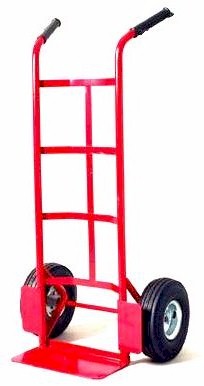 Welcome to the best value hand trolleys web site in UK. Buy online at low prices which are unbeatable in UK for genuine top quality, industrial trolleys. All have been selected for their design, durability, strength and value for money. Each type has been rigorously tested before being offered for sale.
Purchase on line
Purchase online via our secure server 24 hours a day 7 days a week. And remember vat and delivery are included so the price you see is the price you pay there are no hidden extras.
30 day satisfaction guarantee
We are so confident of the quality and value of our hand trolleys that we offer them with a 30 day satisfaction guarantee. This means that if they fail to meet your expectations in any way you may return them in good condition in the original packaging for a complete refund. Naturally misuse and overloading are excluded.
Specification
The range of trolleys we offer is extremely comprehensive. It includes general purpose models, dual footplate, folding, dual purpose, aluminium and three way models. Indeed we know of no other supplier in UK who stocks such a comprehensive range at such competitive prices all covered by a 30 day satisfaction guarantee.
Hints for easy use
When used properly these trolleys can be a real labour saver, however if used incorrectly they can be awkward and uncomfortable. It all depends on the way they are loaded. The rated capacity shown for each model is designed to sit over the axle and wheels when the trolley is tilted backwards towards the user about 30 degrees. Then it is comfortably balanced and easy to use. If the load is too far forward the trolley has to be tilted back excessively meaning the user has to propel it in a stooping position which is ergonomically bad and can cause back problems. So always carefully assess the best way to carry any load before attempting to move it.
Also it is important to remember that a load with its centre of gravity too far forward can damage a trolley as it is tilted back even though it may weigh far less than the rated capacity.
Maintenance
Maintenance is simple, an occasional visual check for loose bolts/fittings, oil the wheel bearings once a year and keep pneumatic tyres pumped up to 20psi. (1.5 bar). And finally - be careful who you lend it to!
We hope you find this advice useful and if you have any queries please contact us via the contact page above.