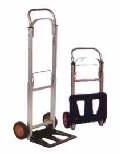 Folding aluminium hand trolleys model HT1105
£65.35
(including p&p and vat)


An extremely useful lightweight hand trolley which folds down to a convenient size for easy storage or transport in the boot of a car or small van. Features a beautifully engineered aluminium frame and folding steel footplate with catch and solid rubber wheels with ball bearing hubs
Folded H x W x D mm: 730 x 400 x 200
Extended H x W x D mm: 1100 x 400 x 410
Footplate W x D mm: 360 x 230
Capacity kg: 100
Weight kg: 6.8
Wheels: 150mm diameter
Model HT1105 £65.35
(including p&p and vat)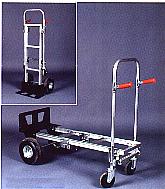 Aluminium Dual Purpose Hand Trolley model HT1864

£152.16
(including p&p and vat)


This unique hand trolley is very versatile. The change from vertical truck to horizontal hand trolley is achieved simply in just seconds.
It has a lightweight aluminium frame, steel footplate, two pneumatic wheels with steel centres and two solid casters all with ball bearing hubs.
Takes the backache out of moving loads over long distances and unlike a supermarket trolley it goes exactly where you point it!
Vertical trolley H x W x D mm: 1355 x 510 x 505
Footplate WxD mm: 455 x 180
Horizontal trolley H x W x D mm: 1050 x 510 x 1200
Actual bed size mm:1010 x 325
Capacity kg: 120
Weight kg: 21
Wheels dia mm: 260 tyres, 100 casters
Model HT1864 £152.16
(including p&p and vat)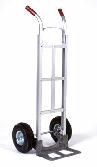 Aluminium hand trolleys model HT1863
£121.54
(including p&p and vat)


A professional quality lightweight hand trolley suitable for cartons, plastic containers etc.
Features a beautifully engineered aluminium frame and pneumatic tyred wheels with ball bearing hubs
Overall H x W x D mm: 1225 x 510 x 520
Footplate W x D mm: 355 x 190
Capacity kg: 200
Weight kg: 13
Wheels: 260mm diameter
Model HT1863 £121.54
(including p&p and vat)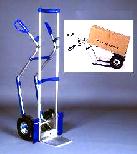 Professional aluminium hand trolleys model SP300
£183.82
(including p&p and vat)


A versatile aluminium hand trolley specially built for professional users and office movers etc.. Replaceable low friction skids for easy movement up and down stairs, steps or kerbs. Foldable footplate for easy storage. Fitted pneumatic tyred wheels with heavy duty zinc plated wheel centres and ball bearings. Handles equipped with knuckle protection guards. The lightest most easily manageable 300kg hand trolleys on the market at an amazingly low price.
Overall H x W x D mm: 1310 x 480 x 625
Footplate W x D mm: 275 x 255
Capacity: 150 kg / 300 lb
Weight kg: 10.5
Wheels: 260mm diameter
Model SP300 £183.82
(including p&p and vat)