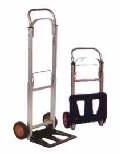 Folding Aluminium hand trolleys model HT1105
£65.35
(including p&p and vat)


An extremely useful lightweight hand trolley which folds down to a convenient size for easy storage or transport in the boot of a car or small van. Features a beautifully engineered aluminium frame and folding steel footplate with catch and solid rubber wheels with ball bearing hubs
Folded H x W x D mm: 730 x 400 x 200
Extended H x W x D mm: 1100 x 400 x 410
Footplate W x D mm: 360 x 230
Capacity kg: 100
Weight kg: 6.8
Wheels: 150mm diameter
Model HT1105 £65.35
(including p&p and vat)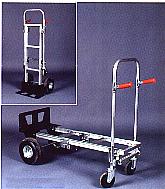 Aluminium Dual Purpose hand trolleys model HT1864

£152.16
(including p&p and vat)


This unique hand trolley is very versatile. The change from vertical trolley to horizontal is simply achieved in just seconds.
It has a lightweight aluminium frame, steel footplate, two pneumatic wheels with steel centres and two solid casters all with ball bearing hubs.
Takes the backache out of moving loads over long distances and unlike a supermarket trolley it goes exactly where you point it!
Sack Truck H x W x D mm: 1355 x 510 x 505
Footplate WxD mm: 455 x 180
Trolley H x W x D mm: 1050 x 510 x 1200
Actual bed size mm:1010 x 325
Capacity kg: 120
Weight kg: 21
Wheels dia mm: 260 tyres, 100 casters
Model HT1864 £152.16
(including p&p and vat)





Ruxxac-Carts, 5 models from
£119.48
(including p&p and vat)


Click here to watch the video
We are proud to offer the incredible range of Ruxxac-Carts (pronounced Rucksack Cart).
The legendary Ruxxac-Carts are made in Germany by the patentees of the original folding hand trolley concept, and tens of thousands are with satisfied users worldwide.
Often imitated but never equalled these beautifully crafted lightweight load carriers are guaranteed against manufacturing defects for a full 5 years.
Once you have used a Ruxxac-Cart, other hand trolleys will never seem the same again.




Folding Aluminium hand trolleys model PH153
£85.30
(including p&p and vat)


A delightfully convenient hand trolley of lightweight aluminium construction with protective corner covers.
Both platform and handle are extendable with locking devices and the handle also folds down. This hand trolley has two fixed wheels and two swivel casters.
Folded H x W x D mm: 240 x 420 x 530
Extended H x W x D mm: 950 x 420 x 730
Capacity kg: 150
Weight kg: 8.5
Wheels mm: 100 diameter
Model PH153 £85.30
(including p&p and vat)